Bowing to Mary is a Sin!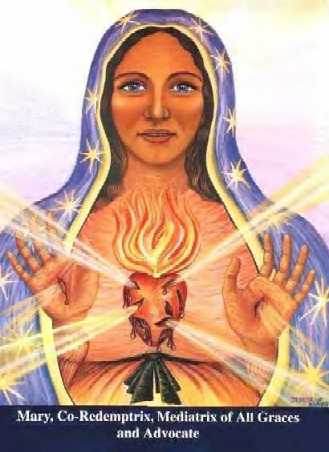 "
The children gather wood, and the fathers kindle the fire, and the women knead their dough, to make cakes to the QUEEN OF HEAVEN...that they may provoke me to anger"

—

Jeremiah 7:18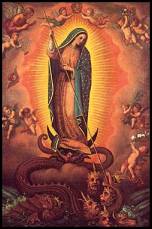 Notice the Halo around Mary (especially her head). The is an idolatrous practice of the Catholics which symbolizes deity (that she is equal with God). The Babylonians practiced the same idolatrous worship to the Queen of Heaven. Mary is NOT deity, she was a normal every-day woman. Yes friend, Satan is definitely working in the Vatican and in Catholic organizations all across the world. Though most Catholics will deny worshipping Mary, the evidence says something very different! They bow down and literally pray in the name of "Mother Mary" to a graven statue of Mary. This is sinful idolatry! They are lying through their teeth. God makes CLEAR in His Word that He will NOT share His glory with another (that includes Mary).
"I am the LORD: that is my name: and my glory will I not give to another, neither my praise to graven images." —Isaiah 42:8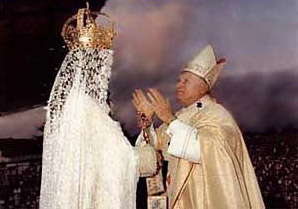 How could anyone be so foolish to actually bow down in prayer to a statue of Mary, yet at the same time deny that they are worshipping her? Talk about crazy! God clearly command us in the first of the ten commandments NOT to make unto ourselves ANY graven images.
"Thou shalt not make unto thee any graven image, or any likeness of any thing that is in heaven above, or that is in the earth beneath, or that is in the water under the earth:" —Exodus 20:4
Do the Catholics need glasses? It says right there in black and white in Exodus 20:4 that we are NOT to make unto ourselves ANY likeness of anything that is in heaven!!! Mary is in heaven. We are NOT to make any likeness of her according to Exodus 20:4. So what do you call a statue of mother Mary? It surely is a likeness of her, a graven image! Here's another shocker...
"Thou shalt not bow down thyself to them..." —Exodus 20:5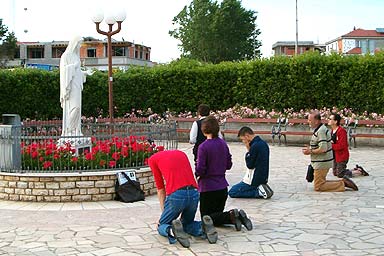 Above: Roman Catholics sinfully BOWING in idolatry to a statue of Mary.
Ok, so then why does every Catholic BOW DOWN before a statue of Mary in their worship places? I'll tell you why... because they are practicing FALSE religion totally void of the truth of God. You can argue whether or not you are worshipping Mary as your bowing down to her; but one thing is for certain, God has commanded us in Exodus 20:5 NOT TO BOW DOWN to her.
Even if your not worshipping Mary, you ARE SINNING if you bow down to her because the Bible strictly forbids it in Exodus 20:5!
As I write, millions of people all around the world are bowing down to Mary in violation of God's Word. Yes, Satanism is in the Vatican!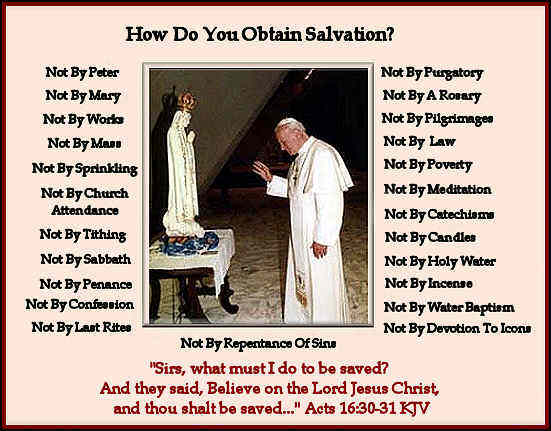 ---
Roman Catholicism: The Cult of Mary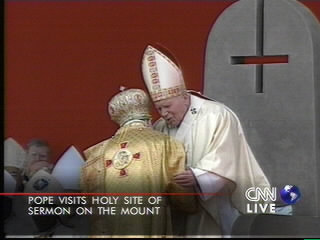 "Howbeit in vain do they worship me, teaching for doctrines the commandments of men." —Mark 7:7

"For false Christs and false prophets shall rise, and shall shew signs and wonders, to seduce, if it were possible, even the elect." —Mark 13:22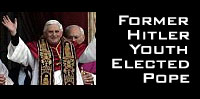 The Roman Catholic Teaching on Salvation and Justification (refuted)
The Catholic Image of Divine Mercy and the New World Order

THE MASS: THE HEART OF ROMAN CATHOLICISM

THE CATHOLIC MARY

BOOKS ON POPERY (good books!)


Book I - History of the Papacy (by J.A. Wylie)

Book II - Dogmas of the Papacy

Book III - Genius and Influence of the Papacy

Book IV - Present Policy and Prospects of the Papacy




Catholicism's HOUSE OF HORRORS!

---

Catholicism is a lie of the Devil. If I didn't sincerely care about people, then I wouldn't take the time to WARN you. The Catholic religion is all a bunch of Satanic lies based upon traditions and ridiculous manipulations of the Word of God. I plead with you as a friend, obey the Bible by turning to the Lord Jesus Christ in faith and forsaking the Mother of Harlots. The Great Whore of the Catholic Church will take you to hell with them if you're foolish enough to follow them. Don't do it. Salvation is NOT found in a religion, but in a Person—the Lord Jesus Christ! You need Christianity friend, NOT churchianity.
---
The Roman Catholic Teaching on Salvation and Justification

How to go to Heaven from the Bible

---

Catholics Remove 2nd Commandment (and split the 10th)

Hundreds of American Priests Have Died from AIDS

AIDS Epidemic Amongst Catholic Priests

Vatican to Officially Allow Gay Priests

Pope John Paul II - Burning in Hell

The Catholic Church is a Big Hoax!

Will the Catholics Ever Make Up Their Minds?

Fifty Years in the Church of Rome (by Charles Chiniquy, a former Catholic priest)

Thirty Years in Hell (by Bernard Fresenborg, a former Catholic priest)

Pope Calls for a New World Order

The Pope, the Devil, and the Masonic Lodge

Why Catholicism is So Popular?

Nations Religious Leaders Praise Pope John Paul II (Apostasy)

List of Catholic Heresies and Human Traditions (What new doctrine will they invent next?)

The Hoax of Our Lady of Fatima (One of Catholicism's Biggest Scams)

The Catholic Church is NOT Christian

The Satanic Eucharist and Mass

The Assumption of Mary Refuted

---

"He answered and said unto them, Well hath Esaias prophesied of you hypocrites, as it is written, This people honoureth me with their lips, but their heart is far from me. Howbeit in vain do they worship me, teaching for doctrines the commandments of men. For laying aside the commandment of God, ye hold the tradition of men, as the washing of pots and cups: and many other such like things ye do. And he said unto them, Full well ye reject the commandment of God, that ye may keep your own tradition." —Mark 7:6-9

---