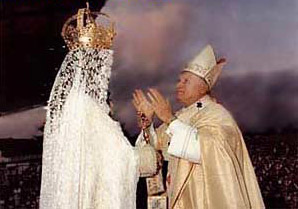 by Mary Ann Collins

(A Former Catholic Nun)

July 2001

INTRODUCTION

Jesus said that the truth will set us free. (John 8:32) However, He did not say that the truth would necessarily be easy to accept. It was painful for me to learn the information that I am about to share with you, but it was also liberating and it led to a closer relationship with God.

As a faithful Catholic, and later as a nun, I practiced Mary worship for many years without realizing it. The prayers and practices were so familiar. They were taught to me by good people, sincere people that I trusted. I prayed rosaries and wore a scapular and engaged in other "devotions" which I honestly thought were good and pleasing to God. Because of my lack of knowledge of the Bible and of Church history, I honestly had no idea that I was actually worshipping Mary.

If modern Catholic teachings and doctrines about Mary are true, then they will not be contrary to Scripture, the writings of the Early Fathers, or the decrees of past popes. For a devout Catholic to question these issues and put them to the test can be painful. It certainly was for me. However, it would be far more painful to have God correct us when we face Him on Judgment Day.

LETTING THE CATHOLIC CHURCH SPEAK FOR ITSELF

I believe in letting people speak for themselves. Therefore my primary sources about Catholic doctrines and history come from the Catholic Church.

First and foremost is the official Catechism of the Catholic Church which was written for the purpose of summarizing the essential and basic teachings of the Roman Catholic Church. It was approved by Pope John Paul II in 1992 and the English translation was released in 1994. The latest English edition was printed in 2000. Most of my other sources are either practicing Catholics or else former Catholics whose approach is loving and respectful and who have thoroughly documented their work.

When I cite the Catechism I will give paragraph numbers rather than page numbers. I will summarize what it says. If you want to see the paragraphs for yourself, there are two web sites with search engines for the Catechism. (Their addresses are given in the Notes.) You can search by topic or by paragraph number. [1]

Scripture quotations are from the King James Version of the Holy Bible.

If you really want to understand Catholic teaching in the light of Scripture and the history of the Catholic church, then I strongly recommend reading the following two books. The authors are former Catholics who love and respect Catholics. They are gentle and respectful in their approach. (See the Bibliography for information about these books.)

The Gospel According to Rome: Comparing Catholic Tradition and the Word of God, by James G. McCarthy. This book is easy to read, well documented, objective, and gentle. It is a comprehensive guide to Catholic beliefs, based on Catholic sources. It examines Catholic teachings in the light of Scripture.

The Church of Rome at the Bar of History by William Webster. This book compares modern Catholic doctrines with the teachings of the early Church.

For a good overview of Catholicism, I recommend the video Catholicism: Crisis of Faith. A friend of mine said that in one hour, this video gave him a better understanding of Catholicism than he had received from a college course on the subject. This video is gentle and respectful. An annotated transcript is available on‑line. (Information about videos follows the Bibliography.)




WILL THE REAL CATHOLIC CHURCH

PLEASE STAND UP?

When I was in the convent, our mother superior told us about Catholics in Mexico who, in their devotion to Mary, were doing things that we would only do when worshipping God. We were concerned about this. We considered this practice to be unusual and unbalanced. We thought that the American practice of Catholicism was the true thing. However, many years later I realized that if you want to know what something really is, then look at how it behaves when it is in a position of power. In America, Catholics are in the minority. To see the true spirit behind Catholicism, watch what the Catholic Church does in countries where it is in power.

One place where the Catholic Church is strong is Spain, which is known for the Spanish Inquisition. I always thought that the Inquisition was ancient history. However, the last official Spanish execution for heresy occurred in 1826. A schoolmaster was hanged because he substituted the phrase "Praise be to God" in place of "Ave Maria" ("Hail Mary") during school prayers. [2]

I always thought that abuses of power by the Catholic Church were something that happened long ago. However, look at the following example from the Philippines, where the Catholic Church is strong.

Beginning in 1948 there was a series of apparitions of Mary in the city of Lipa. These apparitions were sometimes accompanied by showers of rose petals and other supernatural phenomena. They occurred in a convent. The local bishop personally experienced a shower of rose petals and thereafter supported the apparitions. The media mocked the supernatural events in Lipa and street vendors sold phony "holy rose petals." In response to the bad publicity, the Vatican sent a Papal Administrator to take over the diocese where the apparitions occurred. He replaced the bishop and the mother superior. The nun who saw the apparitions was forced to leave the convent. The nuns were ordered to destroy all materials associated with the apparitions, including a statue. The convent was sealed and the nuns were not allowed to talk to anyone outside the convent. An official Commission of Inquiry was convened, which unanimously ruled that the apparitions were not valid. However, they did not interview anybody who had personal, first-hand knowledge of the events. Several of the bishops who were part of the Commission of Inquiry stated on their deathbeds that the Papal Administrator had forced them to sign the verdict by threatening to excommunicate them if they did not sign it. [3]

After years of no longer being a Catholic, I attended a Catholic funeral. When I went into the church something hit me hard. It had always been there, but I had never noticed it before because I was used to it. There were statues of Mary and the saints. They looked solid, real, as if they represented people of power. Jesus only appeared as a helpless baby in Mary's arms, as a dead man nailed to a cross, and as little wafers of bread hidden inside a fancy box. Visually and emotionally the message was very clear ‑- if you want real power, if you want someone who can do something for you, then go to Mary and the Saints.

DEVOTION TO MARY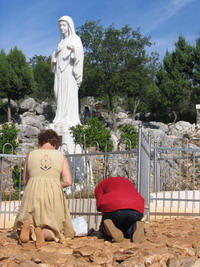 If you want to see what a person's real priorities are, then watch what they do when their life, or the life of a loved one, is in danger. When Pope John Paul II was shot, while the ambulance was rushing him to the hospital, the Pope was not praying to God or calling on the name of Jesus. He kept saying, over and over, "Mary, my mother!" Polish pilgrims placed a picture of Our Lady of Czestochowa on the throne where the Pope normally sat. People gathered around the picture. Vatican loudspeakers broadcasted the prayers of the rosary. When the Pope recovered, he gave Mary all the glory for saving his life, and he made a pilgrimage to Fatima to publicly thank her. [4]
Jesus said, "[W]here your treasure is, there will your heart be also." (Luke 12:34) Some statues of Mary have real crowns made of gold. The web sites listed in the Notes show pictures of statues of Our Lady of Fatima and Our Lady of Lourdes wearing crowns. [5] The statues in the pictures are replicas, and their crowns are ceramic and painted gold. But the crowns on the original statues at Fatima and Lourdes are real crowns made of real gold.
Vast sums of money are spent on some special statues of Mary. For example, the statue of Our Lady of the Pillar in Saragossa, Spain has a crown made of 25 pounds of gold and diamonds, with so many diamonds that you can hardly see the gold. In addition, it has six other crowns of gold, diamonds and emeralds. It has 365 mantles which are embroidered with gold and covered with roses of diamonds and other precious stones. It has 365 necklaces made of pearls and diamonds, and six chains of gold set with diamonds. [6]
In Sabana Grande, Puerto Rico, preparations are underway to construct a huge statue of Our Lady of the Rosary. Inside the base of the statue there will be chapels, conference rooms, apartments, a food court, and radio and TV stations. There will also be observation decks. This statue will be part of a 500-acre "Mystical City" complex. According to an article in Caribbean Business, this statue "will top at 1,500 feet". According to an article by the Associated Press, the statue will be 305 feet high. [7] The discrepancy in numbers can be explained by looking at the Statue of Liberty, which is a 151 foot statue on top of a 154 foot base. Some sources say that the Statue of Liberty is 305 feet high (which includes the height of the base) and some say that it is 151 feet high (which is the height of the actual statue). What we probably have in Sabana Grande is a 305 foot statue with a 1,200 foot base.
I have personally participated in American processions which honored Mary. We walked through the streets following a statue of Mary which was carried on a platform, high up where it was clearly visible. We sang songs in Mary's honor. We prayed rosaries and other prayers to her. These were small processions. At Fatima, Portugal, crowds of over a million people gather on the anniversary of the apparition of Our Lady of Fatima. The celebration includes a procession of a million people following a statue of Mary and singing her praises. [8]
One popular prayer in Mary's honor is the Hail Holy Queen, which is known in Latin as the Salve Regina. It is traditionally included as part of praying the rosary.
For Catholics who are reading this, please try to overcome your familiarity with this text and really look at the words. Doesn't this sound like worship?
"Hail, holy Queen, Mother of Mercy! Our life, our sweetness and our hope! To thee do we cry, poor banished children of Eve. To thee do we send up our sighs, mourning and weeping, in this valley of tears. Turn, then, most gracious Advocate, thine eyes of mercy toward us; and after this our exile show unto us the blessed fruit of thy womb, Jesus. O clement, O loving, O sweet Virgin Mary."
Alfonsus de Liguori (1696-1787) was a principal proponent of the Marianist Movement, which glorifies Mary. He wrote a book entitled The Glories of Mary which is famous, influential and widely read. In this book, de Liguori says that Mary was given rulership over one half of the kingdom of God; Mary rules over the kingdom of mercy and Jesus rules over the kingdom of justice. De Liguori said that people should pray to Mary as a mediator and look to her as an object of trust for answered prayer. The book even says that there is no salvation outside of Mary. Some people suggest that these views are extreme and not representative of Catholic Church teaching. However, instead of silencing de Liguori as a heretic, the Catholic Church canonized him as a saint and declared him to be a "doctor of the Church" (a person whose teachings carry weight and authority). Furthermore, his book is openly and officially promoted by the Catholic Church, and his teachings have influenced popes. [9]
Pope Benedict XV said of Mary that "[O]ne can justly say that with Christ, she herself redeemed mankind." [10] Pope Pius IX said, "Our salvation is based upon the holy Virgin... so that if there is any hope and spiritual healing for us we receive it solely and uniquely from her." [11]
A lay movement called "Vox Populi" ("Voice of the People") gathers signed petitions to send to the Pope, seeking to have him officially declare that Mary is Co‑Redemptrix. Over six million signatures have been sent to him, representing 138 countries and all seven continents. This doctrine is supported by over 40 cardinals and 600 bishops worldwide. [12]
The Catholic Church exalts Mary as an idealized, larger-than-life, perfect mother. However, the Bible shows that at one point Mary misunderstood Jesus' calling to the point that she thought He was insane and she tried to prevent Him from doing what God wanted Him to do. Look at Mark 3:20-34.
"And the multitude cometh together again, so that they could not so much as eat bread. And when his friends heard of it, they went out to lay hold on him: for they said, He is beside himself.'" (Mark 3:20-21, emphasis added)
The New International Version says "His family". The New King James Version says "His own people." The King James Version says "his friends". According to Strong's Greek/Hebrew Dictionary the Greek word has a variety of meanings, including "kinsmen". However, we don't have to depend on the exact meaning of the word here because it will be made clear in verse 31. Strong's defines "lay hold on" as "to use strength, i.e. seize or retain". It defines "beside himself" as "become astounded, insane".
Verses 22 through 30 describe a confrontation between Jesus and the scribes. Then we get back to what is happening with the people who thought that Jesus was out of His mind and were so concerned that they were coming to "lay hold on him" (seize him).