HAND SIGNS PART 1: SIGNS OF SATAN! 2 - 3 - 4
Well known people showing off the hand signal which represents Satan.

ABOVE: Pictures From the Satanic Bible

The following is an excerpt from the "Satanic Bible"...

Horned Hand or The Mano Cornuto:

This gesture is the Satanic salute, a sign of recognition between and allegiance of members of Satanism or other unholy groups.

Signs Of Satan! (12 minute video)

Note: As you can see, The Satanic Bible plainly evidences that the hand-sign showing allegiance to Satan can be flashed with either the thumb extended or concealed.

---

"I Love You," Devil?

The "El Diablo" hand sign often is con-fused with the deaf hand signal of the phrase, "I love you." While at first this appears an odd resemblance, we register an "ahh, I get it!" emotion when we discover that the person who invented, or created, the hand sign system for the deaf, Helen Keller, was herself an occultist and Theosophist. Did Keller purposely design the deaf's "I love you" sign to be such a remarkable imitation of the classic sign of Satan? Was Keller saying, basically, "I love you, Devil?"

SOURCE: Texe Marrs, CODEX MAGICA

"She invented over 60 different signs by which she could talk to her family before the age of seven. For example, if she wanted ice cream she would wrap her arms around herself and pretend to shiver." —SOURCE

---
Gene Simmons of KISS flashing a Stannic Hand Sign with the thumb extended, just like in the Satanic Bible
---
Above left: The original 1973 album cover of the Rolling Stones album titled, Goat's Head Soup. The goat and ram head are greatly revered in Satanism and witchcraft; a mockery of the Lamb of God, Jesus Christ.

Above center: A Luciferian necklace showing the goat's head and horns

Above right: Paul McCartney's 1971 solo album, RAM (creepy, huh?)
Aleister Crowley's Profound Satanic Influence on Rock-n-Roll
Goat of Mendes — Origin of the Satanic Hand Sign?
Here is definition of a "goat" from the Encyclopedia Mythica...

"Medieval legends say that the Devil created the goat. Satan himself often appeared with goat's horns, and sometimes changed his shape completely into a goat."

SOURCE: Encyclopedia Mythica, http://www.pantheon.org/areas/featured/witchcraft/chapter-7.html
Why All The Occult Symbols & Satanic Signs Today?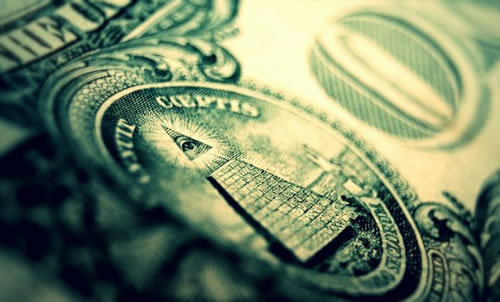 In her book titled, "The Externalization Of The Hierarchy" (heathen website), occultist Alice Bailey (1880-1949), said that now is the time to manifest the ancient mystery religions and start preparing the world to receive the coming man of sin, the Antichrist. Please read my article on the subject,