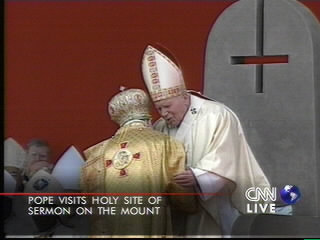 Notice the upside down cross mocking Jesus!
"Howbeit in vain do they worship me, teaching for doctrines the commandments of men." -Mark 7:7
"For false Christs and false prophets shall rise, and shall shew signs and
wonders, to seduce, if it were possible, even the elect." -Mark 13:22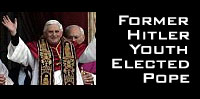 The Roman Catholic Teaching on Salvation and Justification (refuted)

THE MASS: THE HEART OF ROMAN CATHOLICISM
THE CATHOLIC MARY
The Origin of "MARY WORSHIP" is rooted in pagan Babylonian false religion! Jeremiah 7:18, "The children gather wood, and the fathers kindle the fire, and the women knead their dough, to make cakes to the queen of heaven, and to pour out drink offerings unto other gods, that they may provoke me to anger." Exodus 20:1-5 strictly forbids bowing to ANYTHING in worship, which is the sin of IDOLATRY!!!
BOOKS ON POPERY (good books!)

Book I - History of the Papacy (by J.A. Wylie)

Book II - Dogmas of the Papacy

Book III - Genius and Influence of the Papacy

Book IV - Present Policy and Prospects of the Papacy