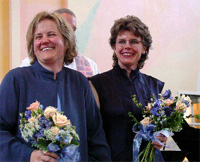 Photo to Right: The Lesbian Wedding Ceremony of Anita Cadonau and Dana Huseby. Miss Cadonau is an ordained minister (or should I say, sinister minister).
God-haters of every sort are not only coming out of the closet, but out of the sewer as well. I am not trying to be unkind, but homosexuality is a sin according to the Word of God. Anyone who defends the sin of homosexuality, promotes it, parades it and teaches youth that it's perfectly acceptable and normal is the enemy of Jesus Christ.
John 7:7, "The world cannot hate you; but me it hateth, because I testify of it, that the works thereof are evil." Homosexuality is a sinful work of the flesh rooted in lust, lasciviousness and sexual and mental perversion. Homosexuality is abnormal, against nature, and is synonymous with enmity against God (Romans 1:27).
Romans 1:27-32, "And likewise also the men, leaving the natural use of the woman, burned in their lust one toward another; men with men working that which is unseemly, and receiving in themselves that recompence of their error which was meet. And even as they did not like to retain God in their knowledge, God gave them over to a reprobate mind, to do those things which are not convenient; Being filled with all unrighteousness, fornication, wickedness, covetousness, maliciousness; full of envy, murder, debate, deceit, malignity; whisperers, Backbiters, haters of God, despiteful, proud, boasters, inventors of evil things, disobedient to parents, Without understanding, covenantbreakers, without natural affection, implacable, unmerciful: Who knowing the judgment of God, that they which commit such things are worthy of death, not only do the same, but have pleasure in them that do them."
Here's their website at Christianlesbians.com, which promotes "Christian Lesbian Living." Says website creator, Anita Cadonau:
"I am a Christian. That is my faith. I am a lesbian. That is my sexual orientation. I make no apology for being either." -SOURCE
Who would have imagined a day in America when we would see professed "Christians" proudly proclaiming their homosexuality? Actually it is nothing new, the same evils existed back in the Old Testament... "Will ye steal, murder, and commit adultery, and swear falsely, and burn incense unto Baal, and walk after other gods whom ye know not; And come and stand before me in this house, which is called by my name, and say, We are delivered to do all these abominations?" (Jeremiah 7:9,10). Woe unto America!