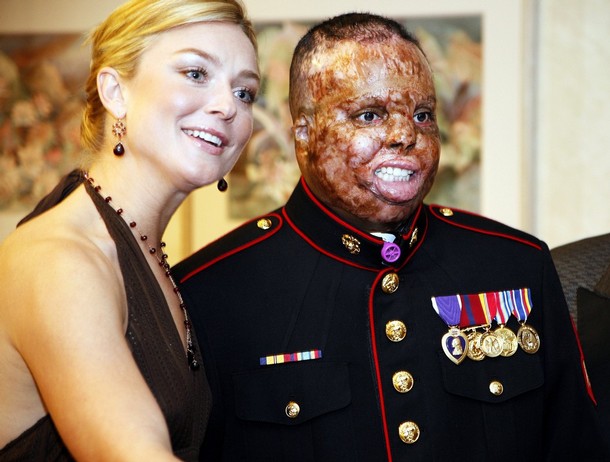 Sergeant Merlin German was treated at Brooke Army Medical Center in San Antonio for burns to more than 97 percent of his body.

What a shame that while America's military youth are dying, being exposed to deadly Depleted Uranium, and coming back maimed for life from the War In Iraq; President George W. Bush and his rich elite dinner guests mock them, by joking about the alleged WMD's that have cost so many people's lives to find, but have never been found. Shame on Mr. Bush and all those rotten people laughing. It's not their children dying! Our children are dying on foreign soil, and our Commanded in Chief thinks it's a big joke!

God is not a warmongering God. God condemns the covetous War in Iraq, just as He condemned the covetous warring of king Jehoiakim in Jeremiah 22:17... "But thine eyes and thine heart are not but for thy covetousness, and for to shed innocent blood, and for oppression, and for violence, to do it."

343 Firefighters Murdered on 911!

911 Was An Inside Job!
(by 32-year NYC Firefighter Rudy Dent)

A NATION IN PERIL
(a 1:45 hour patriotic film that I made from my heart; Freedom is not free!)

If you didn't click above, please click here to listen to an MP3 audio clip (here's the video) of President George W. Bush, at an elite White House dinner gathering, shamefully joking about the alleged Weapons Of Mass Destruction which were never found.

Even more disgusting is that the U.S. Justice Department (one of the most UNJUST institutions on earth), granted clemency to the Bush Administration, so that at no future point can they ever be legally prosecuted (which they will be by God, Ecclesiastes 5:8) for their crimes against Iraq and the American people. President Barack Obama did his evil part in white-washing the crimes of the Bush gang! THERE IS NO JUSTICE IN AMERICA, NOT WHEN IT COME TO CRIMES IN HIGH GOVERNMENT! ...
Ephesians 6:12, "For we wrestle not against flesh and blood, but against principalities, against powers, against the rulers of the darkness of this world, against spiritual wickedness in high places."
Watch the video. I respect the Office of the Presidency, and authority in general as a Christian; but this is just so horrible. We have been betrayed.
Evidently Mr. Bush thinks it's funny to invade a sovereign nation, kill 655,000 innocent people (now 1,455,590 as of 2013), expose our troops to deadly Depleted Uranium, and make the world angry at America on the basis of the Bush Administration's lies and "misinformation."
The following video is not for moral cowards, or brainwashed Christians who prefer to continue supporting monstrous killers and criminals in government.
This video shows the abundance of contradictions and blatant lies from the Office of the President (a clip from my movie, A Nation In Peril). They all belong in jail and should be tried for criminal treason against the American people.
Sadly, the same Christians who criticize such videos won't dare speak a word against the evils being committed by our highest leaders.
The Bible NEVER teaches Christians to offer blind loyalty to criminals. In fact, Psalm 94:16 and Ephesians 5:11 command us to expose them for the evil doers they are.