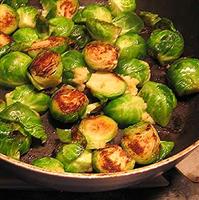 Few people care for the unique taste of Brussels sprouts; but this recipe makes them taste great!
Over a medium heat, fry some Brussels spouts with butter and four cloves of sliced garlic. Add some salt. Fry until browned. Add a little more salt if needed. They're really good!
Also, you can add a Tablespoon of Balsamic Vinegar to the pan at the end for a great twist. What I usually do is remove half of the Brussels sprouts and fried garlic from the pan and then add a Tablespoon of Balsamic vinegar to the other half.
This way you have two different flavors to choose from. I prefer the Brussels sprouts without the vinegar myself, because the fried garlic and salt tastes great by itself.
Try this recipe and you'll be surprised. Try it first without the vinegar and then with if you'd like. Make sure to brown them to get that great fried flavor. You'll love Brussels sprouts from now on!