Texe Marrs
The year 1966 was a banner year for the Prince of Darkness. Approaching the dog days of summer in that momentous year, Anton LaVey, a decadent, ex-circus entertainer, also a Jew, formally founded the Church of Satan in San Francisco. The date: June 6, 1966, or 6-6-66.
Across the nation, in New England at Yale University in New Haven, Connecticut, a young man spent the year 1966 in his somber new residence, the Tomb. The Tomb is a gothic, mausoleum-like stone building just off campus, adjacent to an ancient cemetery complete with Masonic tombstones, odd-shaped crypts, and what is called the "garden of the dead."
A New Name for a Jewish Bonesman
The young man's name was John F. Kerry (really John F. Kohn, Jewish). The Tomb, in fact, is the home of Chapter 322 of the Order of Skull & Bones, a satanic, clandestine lodge of Freemasonry first organized in 1832. Each year, fifteen (15; 1+5=6) carefully chosen young men of preferred bloodlines take up residence inside its thick walls. At their initiation into The Order, each man lies naked inside a coffin and "bonds" with his fellow bonesmen by confessing his sexual thoughts and deeds from birth. Then, each initiate is given, as a memento, a human bone with his new name "inscribed" on it.
Most of the names given the bonesmen are either pagan or else blatantly satanic. The late Averell Harriman, who went on to become Governor of New York State and U.S. Ambassador to Stalin's USSR, was named "Thor," after the Viking deity. Henry Luce, prime controller of Time, Life, and other publishing interests, became "Baal," and McGeorge Bundy, foreign advisor to President Lyndon B. Johnson, was tagged "Odin."
The senior George Bush, at his initiation into Bones, was bequeathed the revealing title, "Magog," a name identified in the Holy Bible as a chieftain of devils who plays a key role in prophetic events. Strangely, the name given his son, George W. Bush, by the Bonesmen was "Temporary." I wonder why?
| | |
| --- | --- |
| | John Kerry speaks to the vicious, anti-Christian group, the Jewish ADL, May 6, 2004. Kerry has said that, if elected President, he will send 40,000 additional troops to Iraq. It is a certainty that Kerry will fully execute the Illuminati's agenda to conquer all Arab oil nations and turn over the rich assets of these countries to neighboring Israel. (Order revealing audiotape report, Hidden Agenda: Ten Awful Goals of the Illuminati's World Zionist Council; $9 postpaid; phone toll free 1-800-234-9673.) |
Long Devil Takes The Lead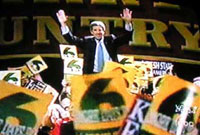 My sources tell me that John Kerry's occult, Bones' name is none other than "Long Devil." "Long Devil!" Of course, the man's sizeable height might account for the "Long," but what of "Devil?" Why did the influential alumni of Skull & Bones decide on this grotesque identity for John Kerry? What did—and do—they know?
Kerry (Yale, Class of '66) went on to serve in the U.S. Navy in Vietnam, a nation then ravaged with bloodshed and war. Though in-country only four months, young Ensign (later Lt.) John Kerry played a part in that bloodletting. Some say his refusal to release all his military personnel records indicates Kerry's desire to cover-up ugly war crimes he personally helped commit.
On April 22, 1971, testifying before the Senate Foreign Relations Committee, a hippie-like, long-haired John Kerry, by then a civilian, told the Senators he had evidence of horrific atrocities and war crimes by Americans—soldiers, sailors, and marines—who had "personally raped, cut off ears, cut off heads, taped wires to human genitalia and turned up the electric power, razed villages reminiscent of Genghis Khan, shot cattle and dogs for fun, and poisoned food stocks..."
Was Kerry himself a perpetrator of some of these satanic crimes?
I use the term "satanic" advisedly, yet, that description is fitting, for truly, Satan was the mastermind behind the tortures, torments, and murders committed in Vietnam, both by Americans and by the Vietnamese.
Christianity to Vanish and Shrink
Yes, '66 was a classic year for the old Devil. That was also the year that Beatle John Lennon assured the world that Christianity was on the way out:
"Christianity will go. It will vanish and shrink... I'm right and I will be proved right. We're more popular than Jesus now."
Lennon, McCartney, and the other Beatles promptly went over to India to worship Hindu gurus, and they introduced their gurus and other vestiges of Eastern mysticism to western culture. All done in a haze of marijuana, LSD, and cocaine.
The Illuminati-supervised CIA helped things along. The U.S. intelligence agency put Satanist Jerry Garcia and his Grateful Dead band (Al Gore's favorite rock group, says Rolling Stone magazine) on its payroll. The CIA, according to Gerald Heard and SRI International, distributed tons of LSD to a spaced-out youth generation. This was a mind control experiment of the Illuminati elite.
The 60s saw Hollywood's satanic sex classic, Rosemary's Baby, hit theaters, a movie for which Church of Satan High Priest Anton LaVey acted as a consultant. Actor John Cassavettes, who played Rosemary's Satan-worshipping husband in the movie, also played in a role in the movie, The Dirty Dozen.
By the end of the indulgent decade of the 60s, America had borne witness to blood murder, sexual kinkiness, and other Satanic mayhem on a truly epic scale, culminating in 1969's Manson Family murders. Satanist Charles Manson was inspired by Anton LaVey.
Others, too, were inspired by LaVey. Famous black actor/singer Sammy Davis, Jr., became both a religious Jew and a practicing Satanist, joining LaVey's macabre congregation of devil cultists. Blonde bombshell Jayne Mansfield also joined the cult, as did scores of other Hollywood and Las Vegas types.
| | |
| --- | --- |
| | As far as Satan was concerned, '66 was a very good year. Anton LaVey, a Christ-hating Jew, shown here performing a ritual with disciple, actress Jayne Mansfield, founded the Church of Satan in '66. Meanwhile, John Kerry (Yale, Class of '66) was enjoying the benefits of residence at The Tomb, headquarters of the Order of Skull & Bones. |
But, let us again return to the subject of our essay: Long Devil, John Kerry.
Joining Hands with Mr. Chappaquiddick, Ted Kennedy
John Kerry has been, as we all know, richly rewarded for his faithfulness to Lucifer's cause. Pretending to be an Irish Catholic, Kerry first became Massachusetts Lt. Governor, serving under a fellow occultist, super-liberal Governor Michael Dukakis. Then he joined "Mr. Chappaquiddick," Ted (Catholic and Rosicrucian) Kennedy as a U.S. Senator, being elected from the state popularly known as The Peoples Republic of Massachusetts.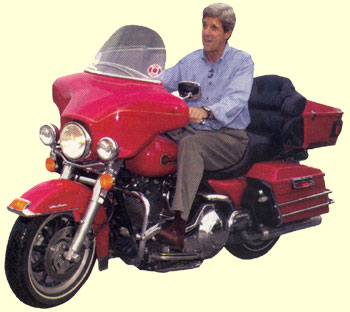 John Kerry seems to like things "Red." Here he is sitting atop his bright, fire-red motorcycle (Insight magazine, April 13, 2004). He reportedly once took a $10,000 bribe from Johnny Chung, a lobbyist for Red China, and a Communist museum in Vietnam today proudly displays a picture of Senator John Kerry embracing Red Communist leaders. Kerry's wife, Teresa, is a funder of numerous Red Communist causes. She originally hails from Mozambique, in Africa, a Marxist-led country. Insiders believe that during the Vietnam War, USN-Lt John Kerry aided in Operation Phoenix, whose symbol, or logo, was the red dragon!
All along, Kerry has kept his ties to various Communist front groups. At virtually every campaign stop today, you'll see Kerry flash the old Communist clenched-fist salute, an enduring symbol of one's devotion to Marxism/Leninism philosophy.
"Communism is Jewish," the late Rabbi Stephen Wise proudly proclaimed. Indeed, Gus Hall, the man honored as the Chairman of the Soviet-funded Communist Party U.S.A. for so long, was a Jew. Like Kerry, he had changed his name to hide his Jewish race.
Comrade John Kerry frequently gives the Communist clenched-fist salute. The late Bella Abzug, Communist Congresswoman from New York and feminist gal-pal of Hillary Clinton, also loved displaying the Leninist/Stalinist salute.
The Lubavitchers and Kerry
Kerry's brother, Cameron, is likewise a Jew, and proud of it. Recently, he marched side-by-side with a leader of the Lubavitcher sect in New York City. The occasion was the "Israel Day Parade." The Lubavitchers are a radical Jewish Orthodox sect. Many of them believe their late fuhrer, Rabbi Menachem M. Schneerson, will rise from the dead to become the Jewish Messiah, Dictator of the World. They affectionately call Schneerson their "Rebbe."
Cameron Kerry (right) sporting a "Pro-Israel, Pro-Kerry" t-shirt, attends an Israel Day Parade with friend, Yankel Wice, influential Lubavitcher leader and lawyer for the National Association of Jewish Legislators.
If, however, the departed Schneerson does not show in time, John Kerry, the Jews' new hero, may be just what their Master, the devil, orders. After all, Kerry is not only Jewish, his very name, albeit covert in nature, is "Long Devil." How very appropriate a name for the antichrist. The Lubavitchers would likely not know him as antichrist. To them, he would probably be received as their beloved "Rebbe."
Christians to Have Heads Chopped Off
The antichrist, the Bible prophesies in Revelation 13, "will make war against the saints" of God. He will have Christians and other resisters to his New World Order beheaded, say the scriptures.
Not surprisingly, the Lubavitchers—and many other Jewish groups—are big advocates of the Noahide Laws. They once actually got President George H.W. Bush (the senior Bush) and the U.S. Senate to pass a resolution praising both their beloved Rebbe, Menachem M. Schneerson, and the Noahide Laws. And what, do tell, do the Noahide Laws say?
Well for one thing, the Noahide Laws require all Gentiles (Yes, Gentiles) to be "righteous." Being righteous is defined as not worshipping idols. And Jesus is declared in the Talmud to be an idol!
In summary, under the Noahide Laws, all Christians who worship Jesus Christ are idolaters and will be duly punished by beheading!
Shouldn't John Kerry's Jewish brother, Cameron Kerry, a lawyer and pro-Israel activist and fanatic, be asked about his association with the Lubavitchers and other Jewish Talmudists? Especially in light of Cameron Kerry's recent trips to Israel, where he was wined and dined by Prime Minister Ariel Sharon, the bloodthirsty Butcher of Lebanon?
Long Devil Takes the Lead—Satanic Puppet John Kerry Vows to Faithfully Carry Out the Illuminati's Plan for World War III